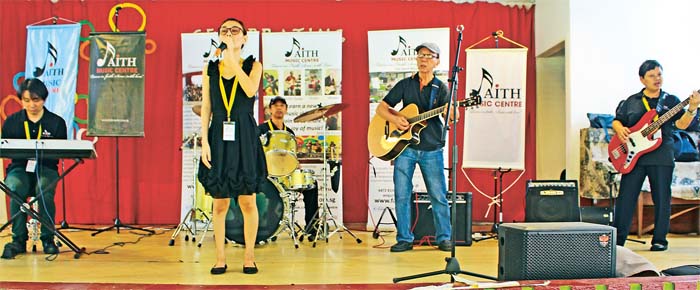 Members from the Visually Impaired Band performing in front of elderly residents of St. Theresa's Home
"As I am physically handicapped myself, I know it's not easy for them to come out and perform. To do so, it takes great courage," said Mr Law, a resident in St Theresa's Home.
He was among elderly residents who watched 16 visually impaired people from a Catholic music centre perform evergreen numbers on Sept 6.
Faith Music Centre, that started in mid-2008 in Blessed Sacrament Church, has several centres across Singapore. Since 2010, it has been collaborating with the Singapore Association of the Visually Handicapped to impart music skills to the visually challenged. The centre started a visually impaired band in 2013 which plays in homes for the elderly.
Two people who have benefitted from the training are Mr Clarence Chan and Ms Adrienne Lim. As part of the Visually Impaired Band (VIB) which has also been performing at corporate events, the two organised a Singing Lotus concert to give hope to others with disabilities and to help integrate them into society.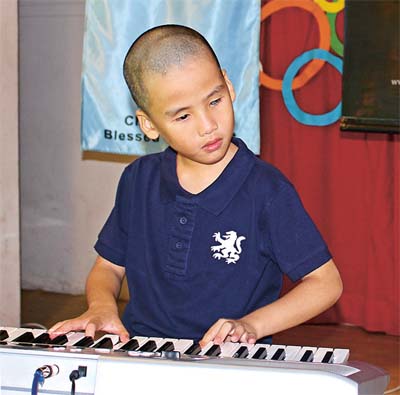 During the recent hour-long concert, seven-year-old Keane Zhuang Jun Hao made his debut. Born without sight and diagnosed with autism, the youngest performer during the event played Edelweiss and a Mandarin song by the late Teresa Teng called The Moon Represents my Heart on his keyboard.
Mr Ken Wong, a 26 year-old visually impaired guitarist who lost his sight due to muscular dystrophy also performed Oh My Angel – an original piece that he composed.
The graduate from the School of Music and the Arts who has a diploma in songwriting and production will release his debut CD soon.
The oldest to perform was VIB guitarist, James Chong, 72. "We want to prove and show other physical disabled persons that we can play music," he said.
VIB also performed familiar Christian songs such as Amazing Grace and As the Deer. When they performed the final number which was an upbeat song by the late Teresa Teng, residents clapped and sang along.
"With whatever little skills these visually impaired learners learnt, they gave everything," said Mr Alvin Yeo, founder and deputy CEO of Faith Music Centre.
Link to original article: http://www.catholicnews.sg/index.php?option=com_content&view=article&id=10354:visually-impaired-perform-for-elderly-residents-of-home&catid=485&Itemid=207