Social Mission
Learn in Faith, Serve with Love
One of Faith Music Centre's social objectives are to impart learners with music skills and lead them to perform solo, in bands or ensembles and share the joy of music in old age and children homes in Singapore and overseas. These music performances are conducted in collaboration with our corporate partners as a part of Corporate Social Responsibility (CSR).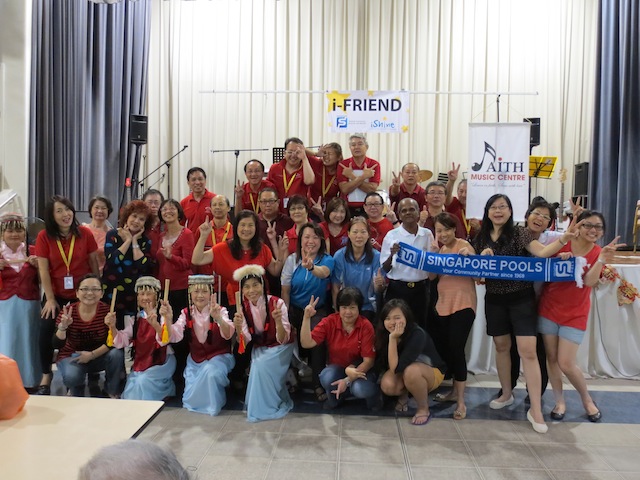 Some of the homes that we engage with include Society for the Aged Sick, The Singapore Leprosy Relief Association (SILRA Home), Ling Kwang Home for Senior Citizens and day care centres such as CARElderly community services, Apex Rehabilitation Centre, etc.
Kindly refer to our gallery for some of our music performances.
For collaboration and more information please contact Melissa Tan (Ms) at melissa_tan@faithmusic.com.sg
Transforming Disability into a Different Ability
Another social objective of Faith Music Centre is to impart music skills to Persons With Disabilities (PWDs) with the aims of:
Equipping PWDs with music proficiency so that they are able to contribute to the society by sharing the joy of music with residents in old age and children homes;
Encouraging PWDs to use music as an employability skill for income & allowances;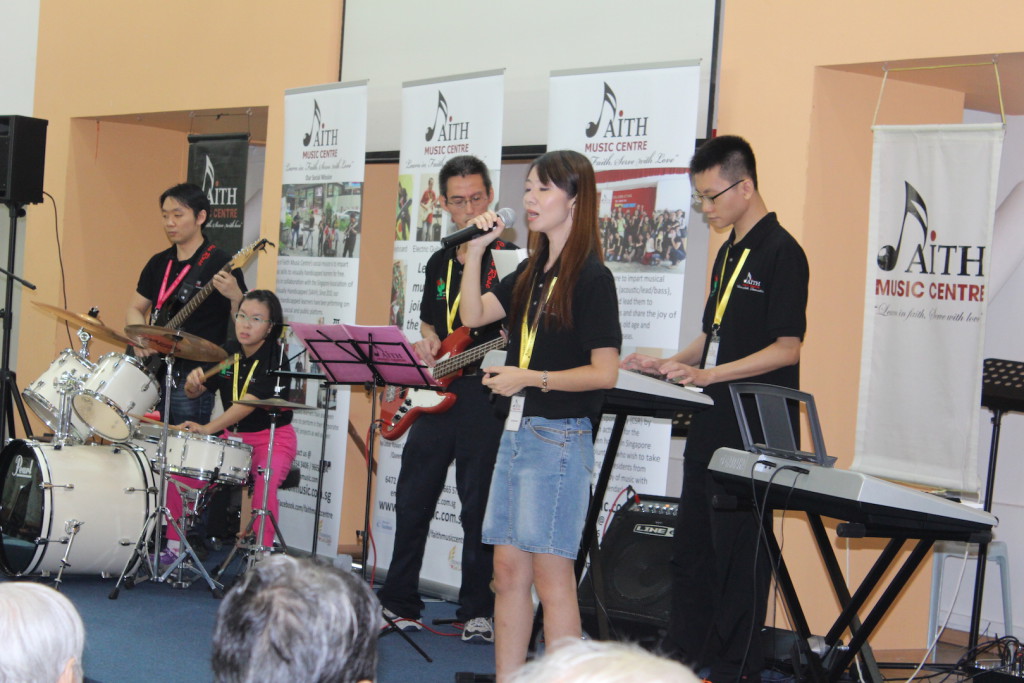 Our PWD bands and soloists are now performing alongside our able-bodied music learners to share the joy of music in old age and children homes. They are also paid for their performances in various corporate and public venues.
Kindly refer to our gallery for some of our PWD bands and soloists music performances.
For more information please contact Alvin Yeo (Mr) at alvin_yeo@faithmusic.com.sg
A Team That Plays Together Stays Together!
Faith Music Centre's music program also includes team-building with music for corporate learners. Using music as a conduit, we help participants understand the:
Forming & Norming process of a team by equipping them with basic music instrument skills;
Storming & Performing process of a team by getting them to put up a music performance together.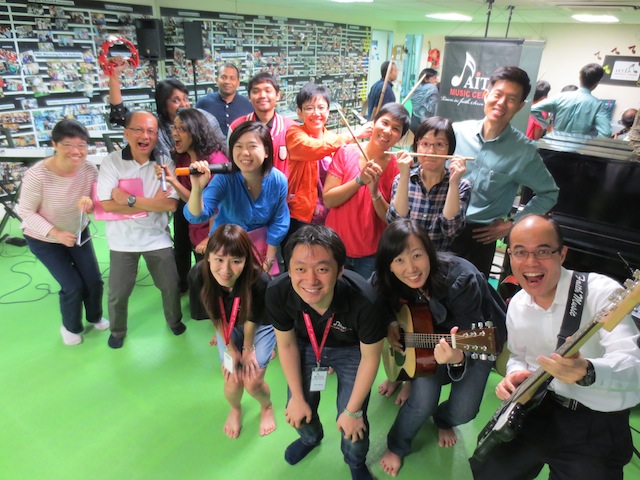 Some of our corporate music programs conducted include, Teambuilding with Music (Band), Teambuilding with Music (Vocal) and Teambuilding with Music (Ukulele).
During the sessions, participants will experience the processes of functioning within their own group and then working together with other groups as a whole towards a common objective.
For more information please drop us an equiry at enquiries@faithmusic.com.sg